June 23 - June 28, 2006
Banff and Jasper National Parks, Alberta, Canada
It's quite an amazing change to fly from Miami, Florida, to Calgary on a mid-June day. Palms are replaced by conifers, humidity is nearly banished, and insanity replaced with potential. I spent the first night in Calgary and awoke the next morning to see the sun breaking through the clouds, and the pleasant smell of spruce and fir trees really boosted my spirits. This was going to be an amazing experience and tremendous fun. I spent the next five days driving, hiking, camping, and exploring as much of the Canadian Rockies as I could.
Temperatures ranged from 0-33° C (32-91° F), with mostly clear conditions except for portions of the beginning and end of the trip. Gas was CAN $1.05-1.09 per liter (USD $3.57-3.71 per gallon). I was thrilled by the gorgeous views and abundant wildlife that I found, surprised by the commercialization within the park, and pleased that the many Canadians I met were so friendly.
I certainly hope that I can return to this area of the world again and stay for a much longer period of time. There are several other parks adjacent to Banff and Jasper (including Kootenay and Yoho) that I was unable to see in much detail. I hope that you enjoy these two pages of photographs! To anyone with a 56K or slower internet connection, I apologize for the slow loading time.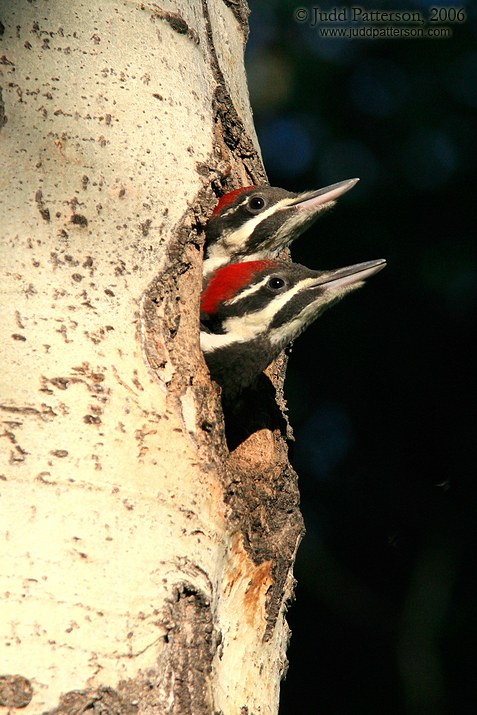 1. Two young Pileated Woodpecker chicks asking for food in their aspen tree...
there was one little one farther inside the nest cavity.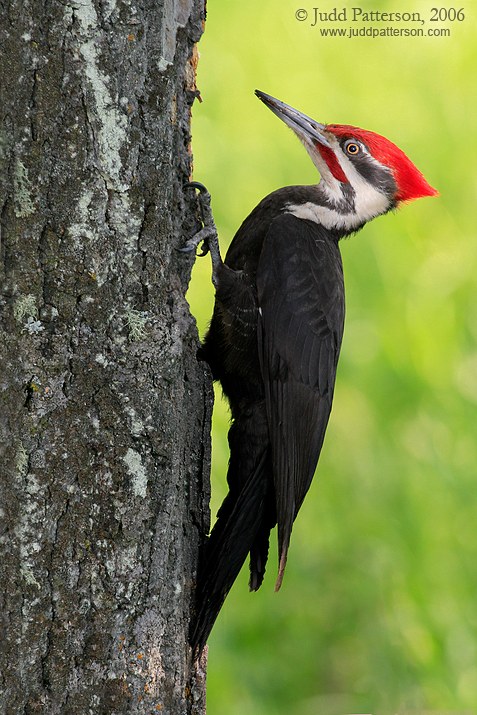 2. daddy Pileated Woodpecker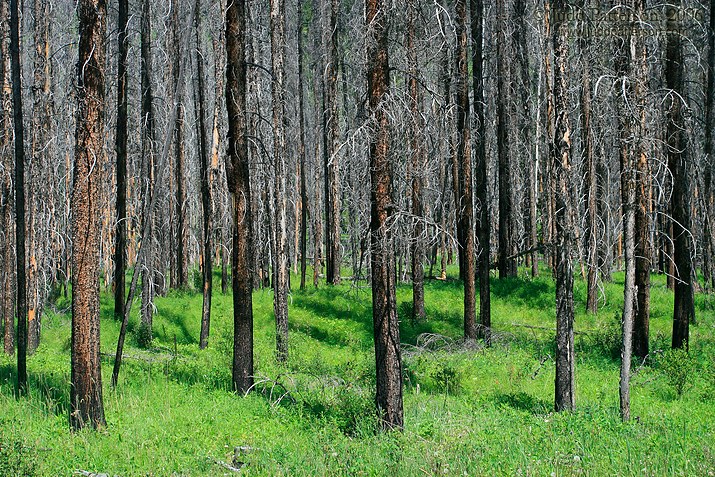 3. In time this destruction will yield tomorrows beautiful forests, while providing essential habitat for many insects, birds, and other critters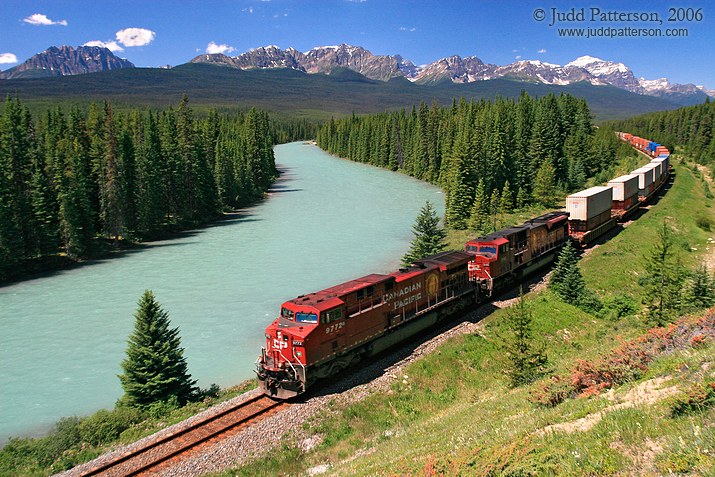 4. Canadian Pacific headed east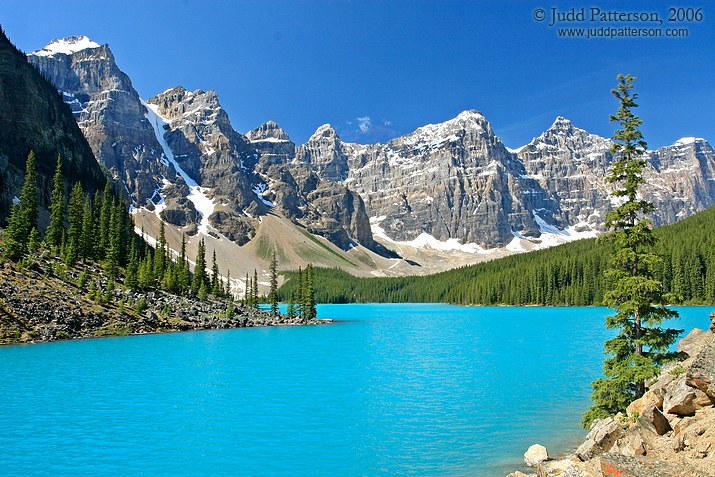 5. Moraine Lake during its midday glory. The water is full of a very fine glacial "flour" from the rock-grinding action of nearby ice. This sediment is the right size to reflect the turquoise that so awes visitors to the northern Rockies.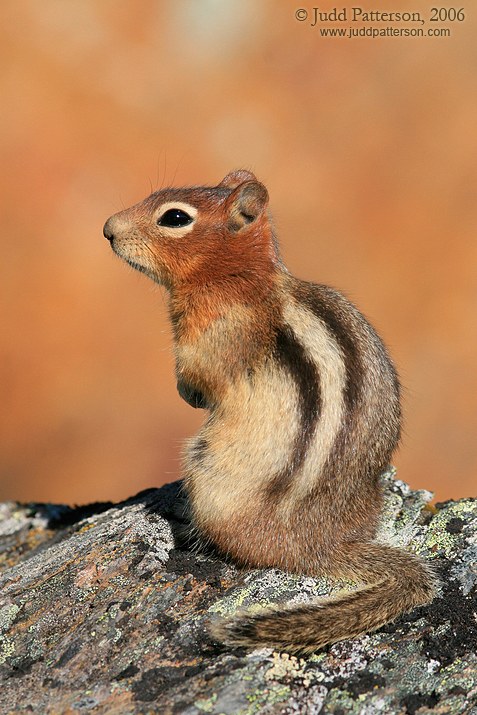 6. Golden-mantled Ground Squirrel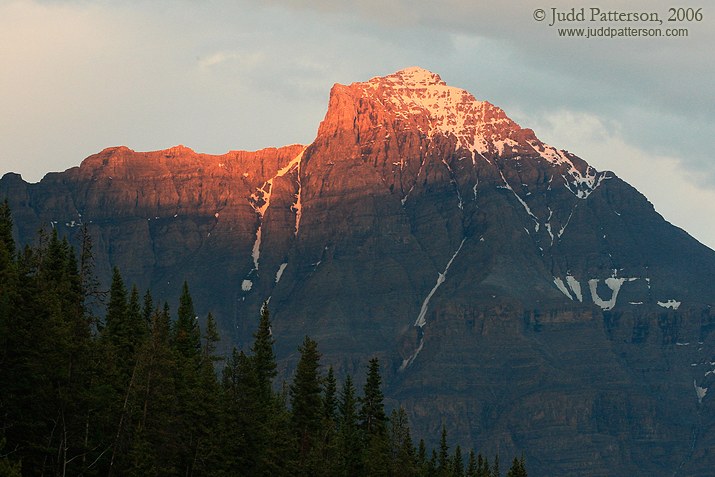 7. The day ends in Jasper National Park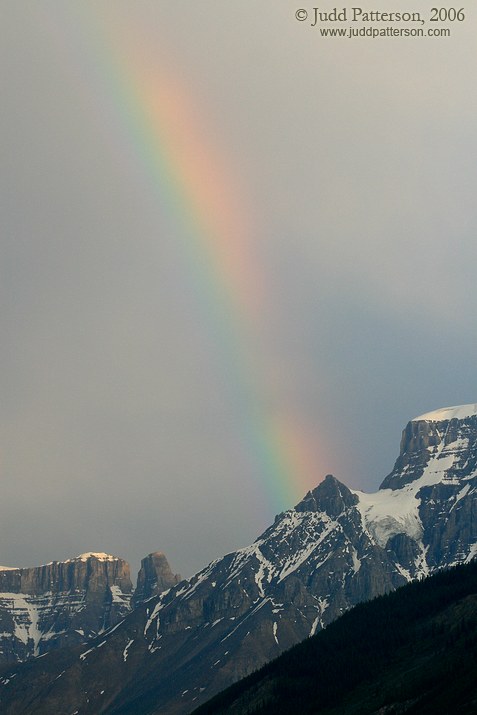 8. A quick storm results in a partial rainbow over a snow-capped peak along the Continental Divide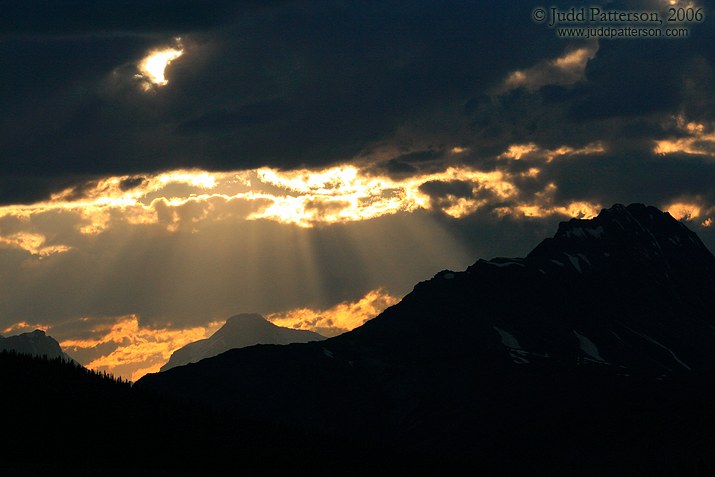 9. With darkness there must come light...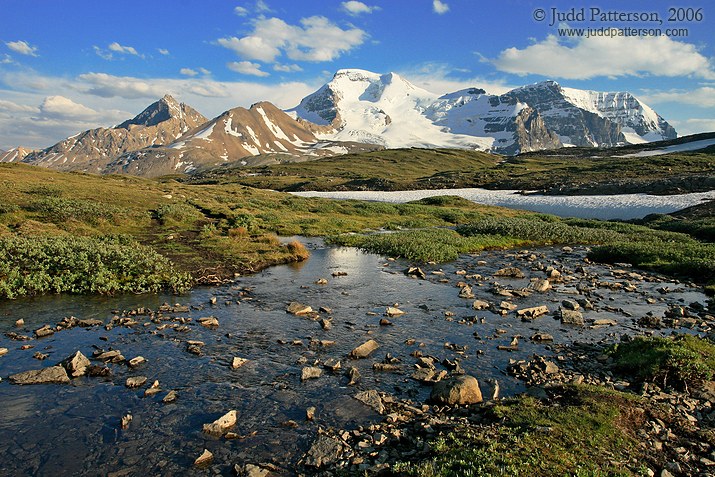 10. The tundra's snowpack is melting and life is poised to take advantage of the short growing season. Slowly slipping down the mountainside is the extremely large Saskatchewan Glacier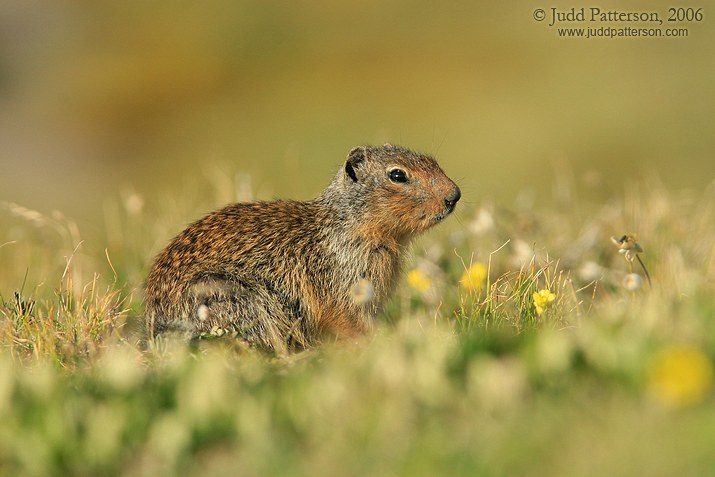 11. Columbian Ground Squirrel up above the tree line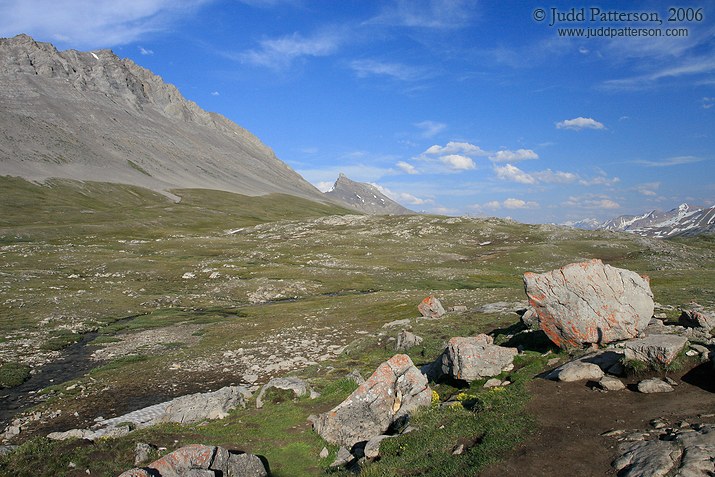 12. Another view of the alpine tundra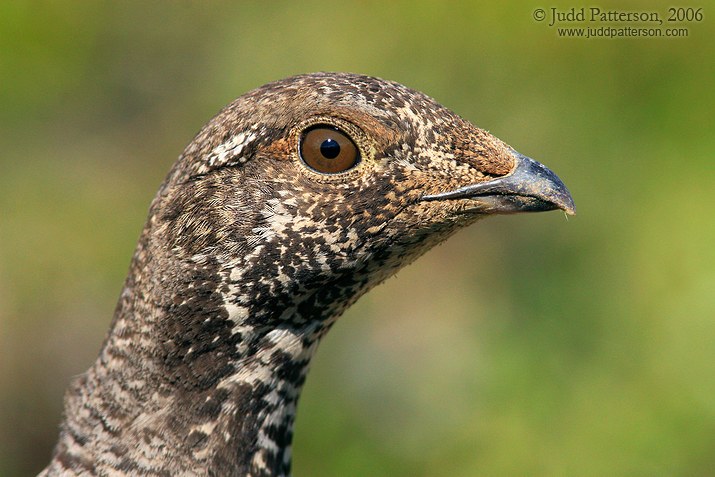 13. Dusky Grouse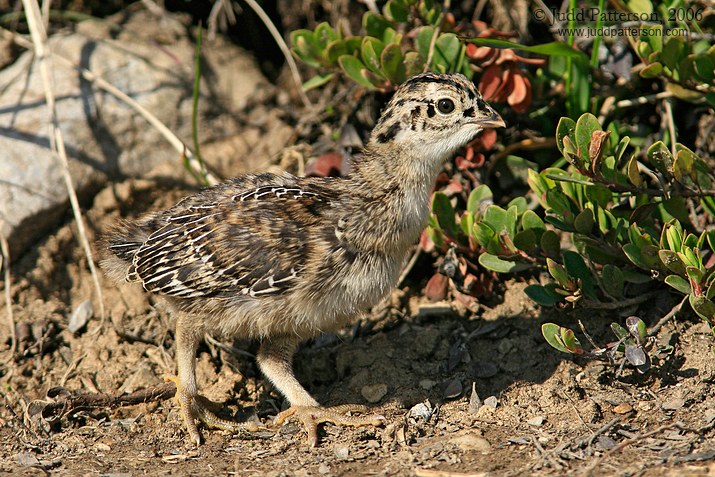 14. Dusky Grouse chick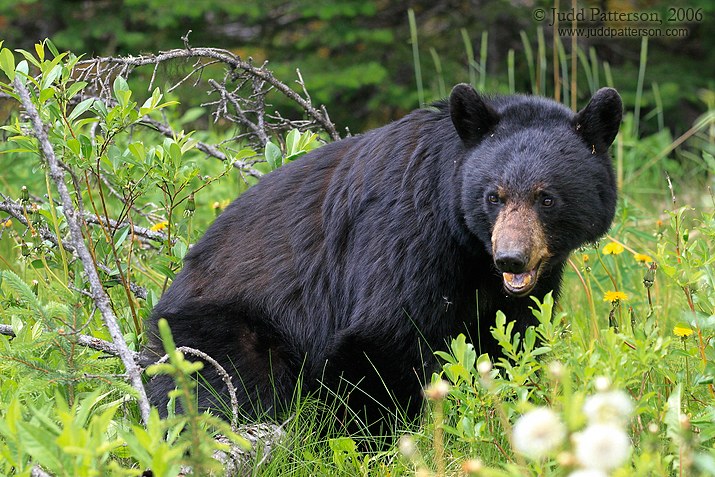 15. Black Bear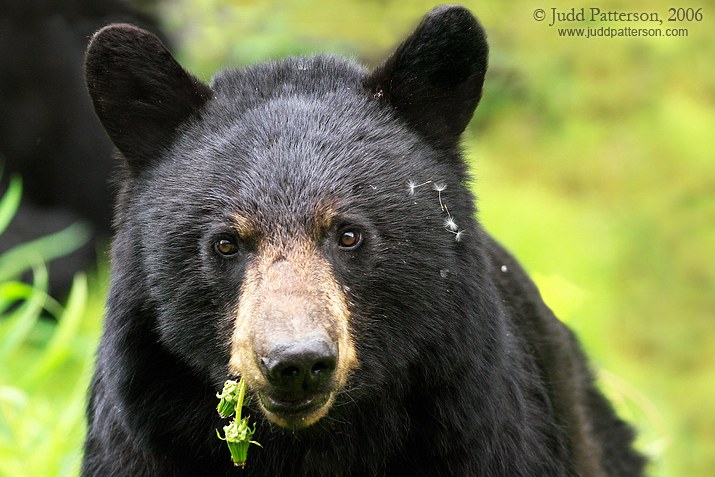 16. Black Bear close-up; happily eating dandelions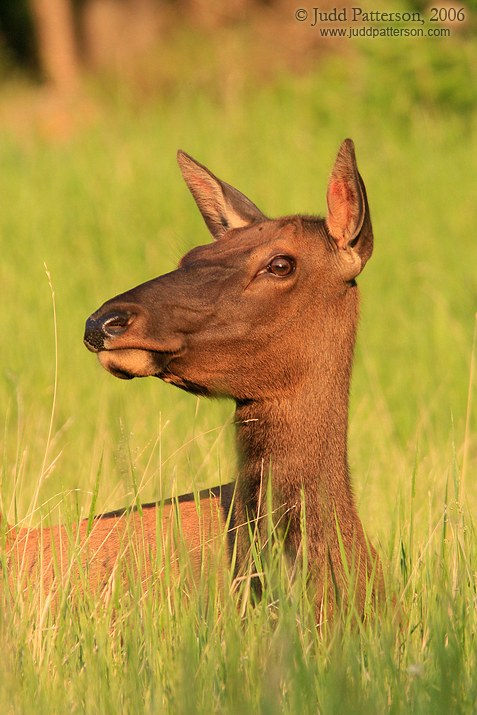 17. female Elk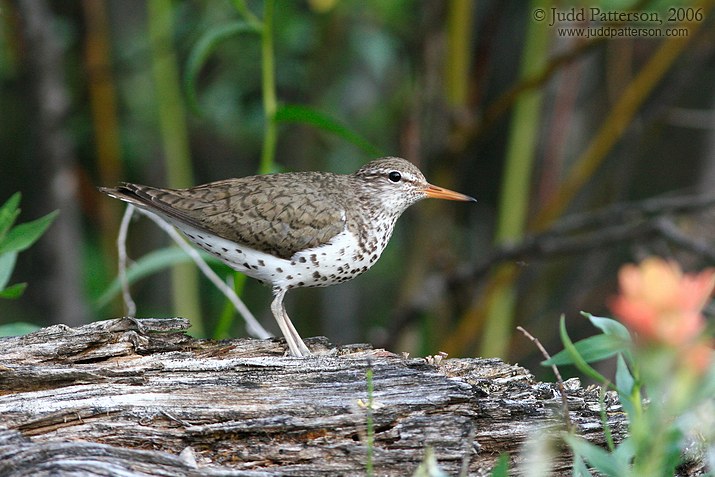 18. Spotted Sandpiper near its riverside nest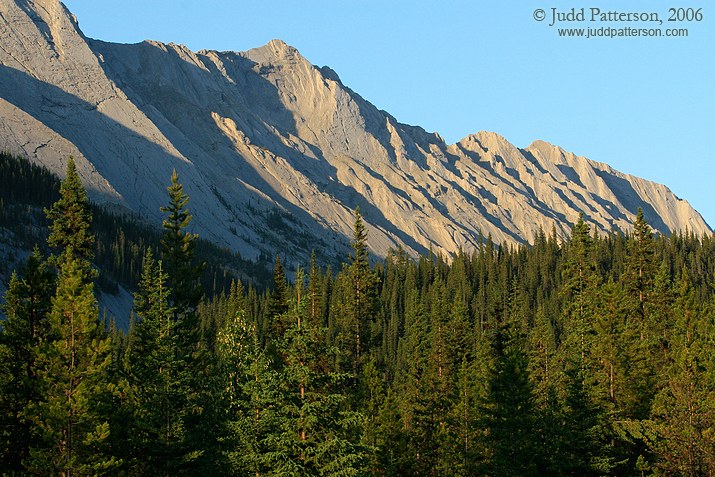 19. Evening is near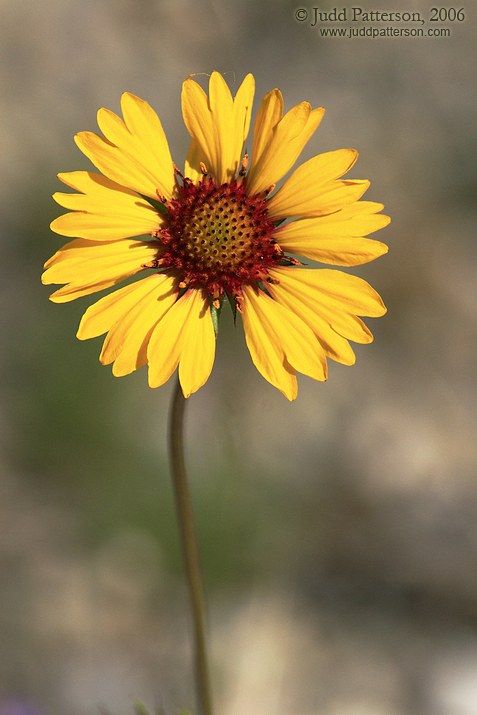 20.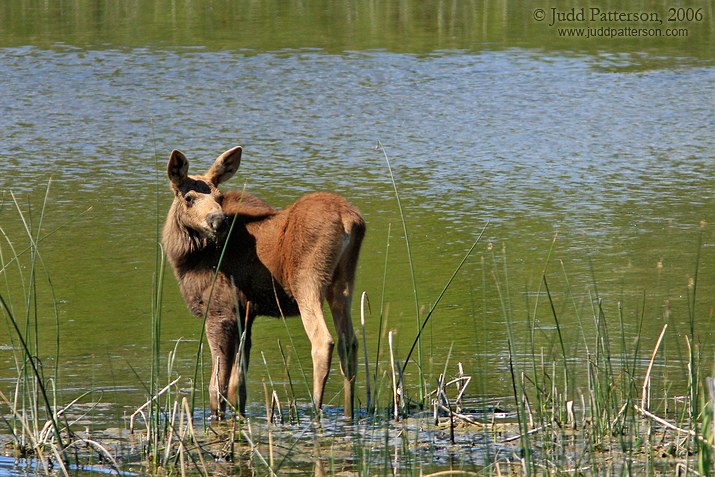 21. Moose calf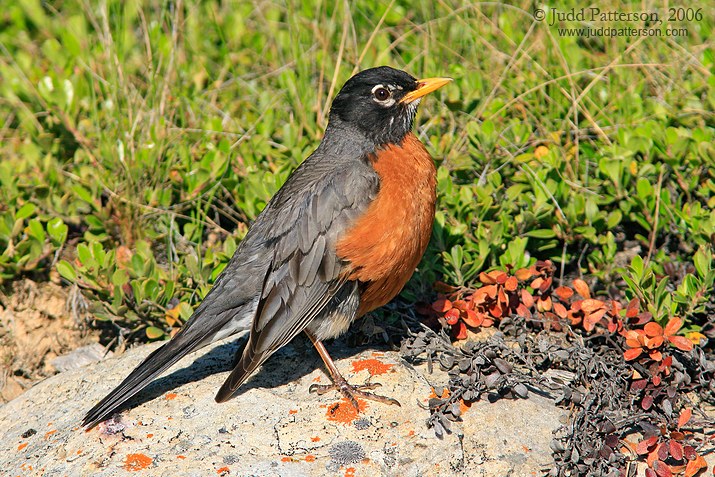 22. American Robin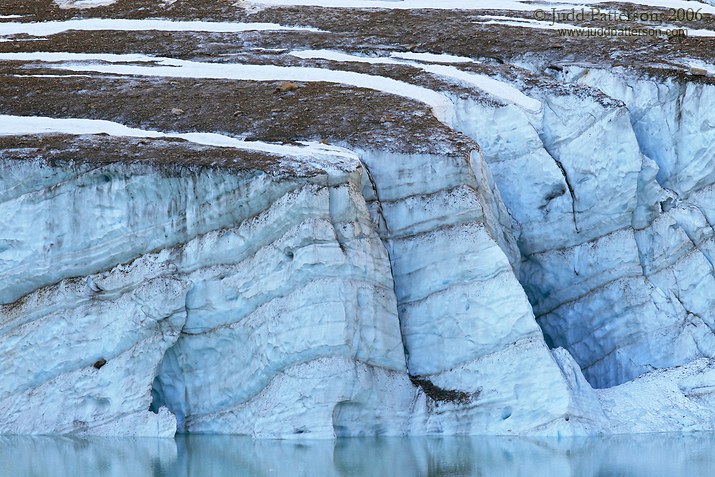 23. A glacier with its meltwater lake in the foreground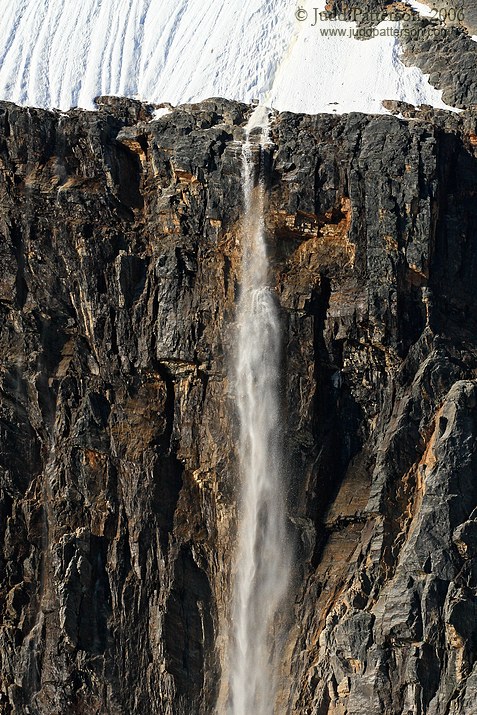 24. An avalanche; You hear a snap first and then things are eerily silent. Then finally you hear a growing rumble and you look to see if the entire mountainside is going to come down on you! In this case most of the ice stayed put, but I'm sure this stream of falling ice and snow is much larger than it appears.
25. Angel Glacier hangs above a glacial melt lake in the Edith Cavell region of Jasper National Park - there is no
way to communicate the immense size of that sheet of ice; nor is there any way to communicate the
spine-tingling sounds that would occasionally echo down the mountainside. The morning sun was warming
the perched glacier and all around me were previous chunks of ice (as big as cars) that had fallen
in the not so distant past.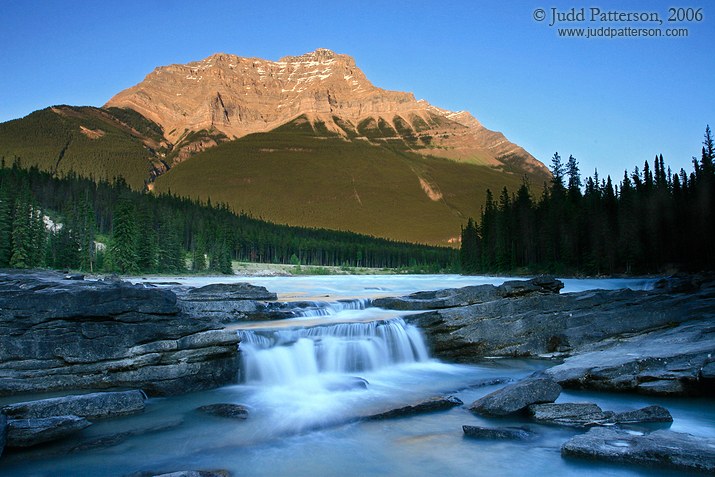 26. Right before sunset in Jasper National Park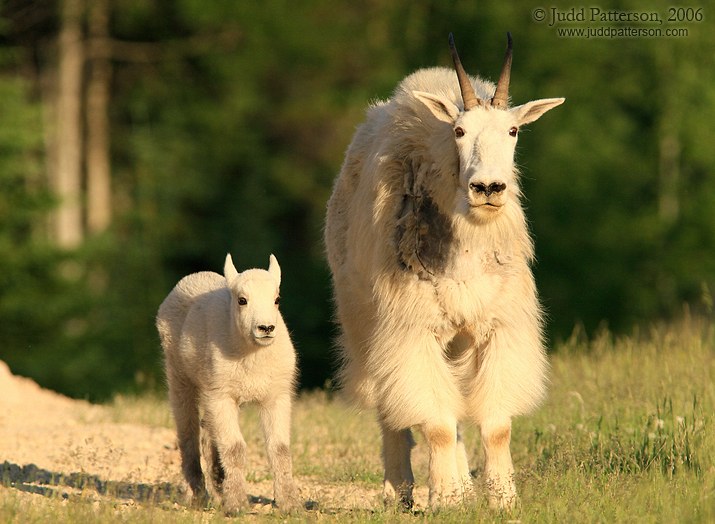 27. mother Mountain Goat and her kid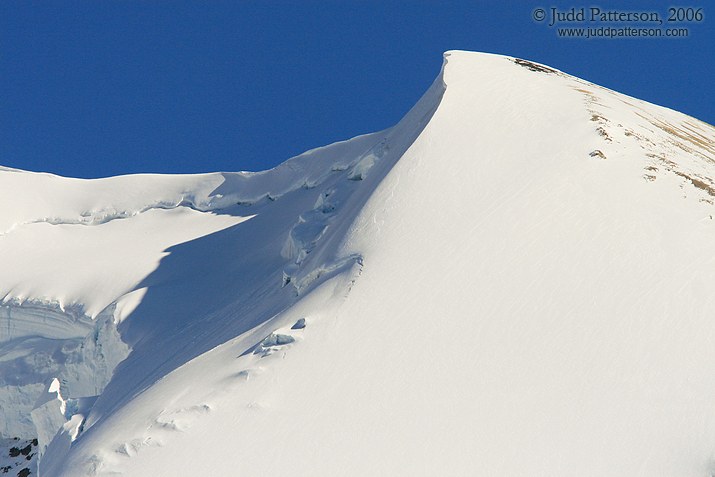 28. The very tip of a mountain in the Columbia Icefield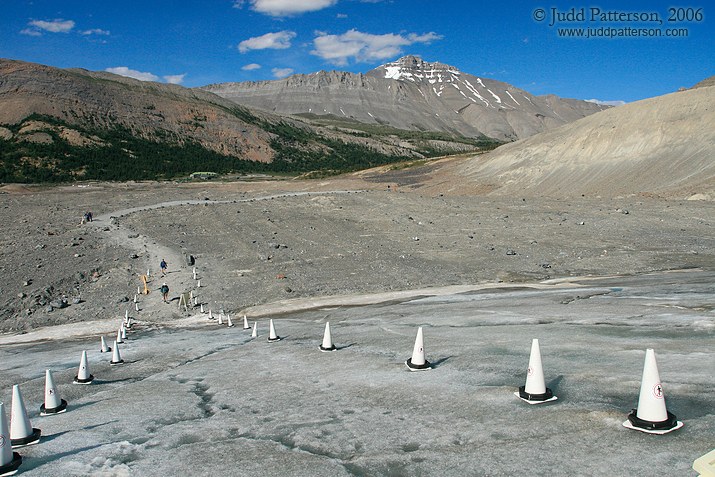 29. A marked path on Athabasca Glacier - with a nearby sign warning that their last several rescue attempts had been unsuccessful - I saw people straying from the path, but I did not feel like falling down a glacial fissure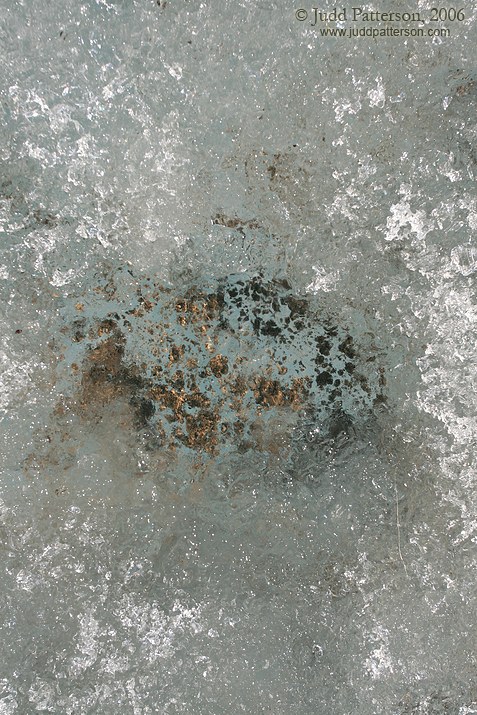 30. Looking down into the ice near the toe of the glacier you could see lots of suspended sediments and rocks.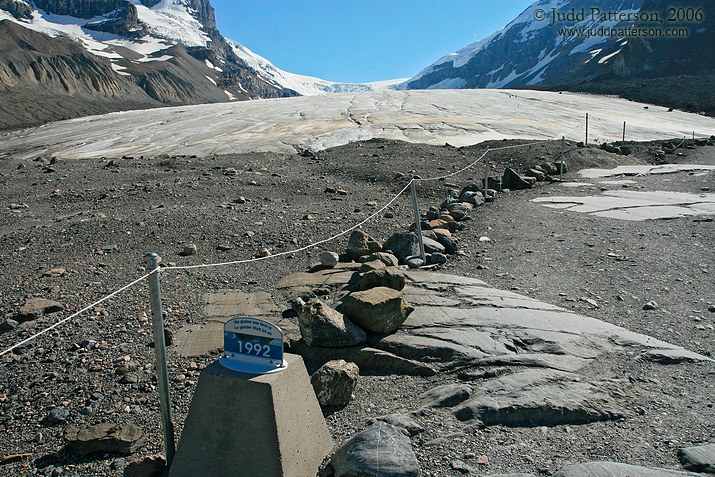 31. Just one of many signs marking the retreat of Athabasca Glacier. It was amazing to see how far the glacier had retreated...several dozen million cubic meters of ice have melted in the last hundred years.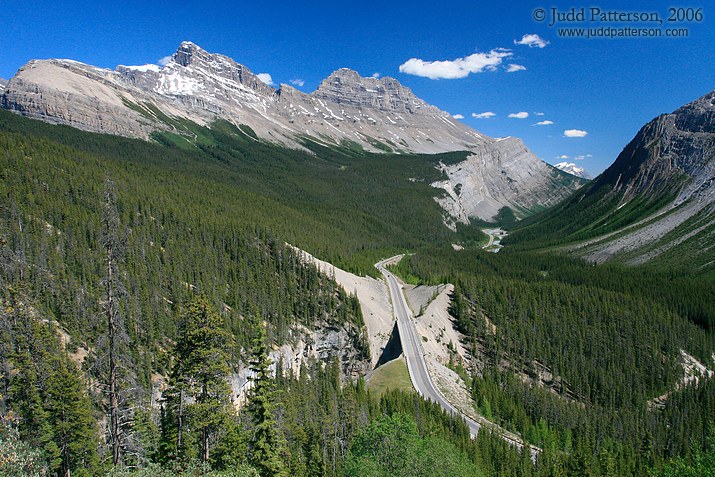 32. Looking back on the road just traveled.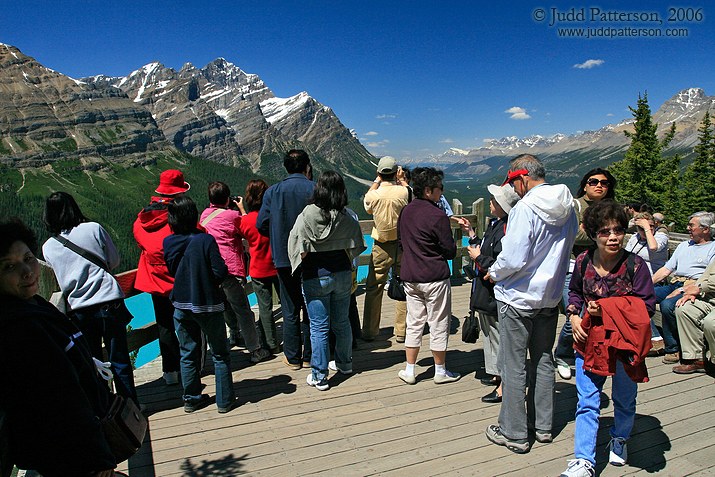 33. The tourist hotspot overlook at Peyto Lake. Better views and total solitude can be had not far away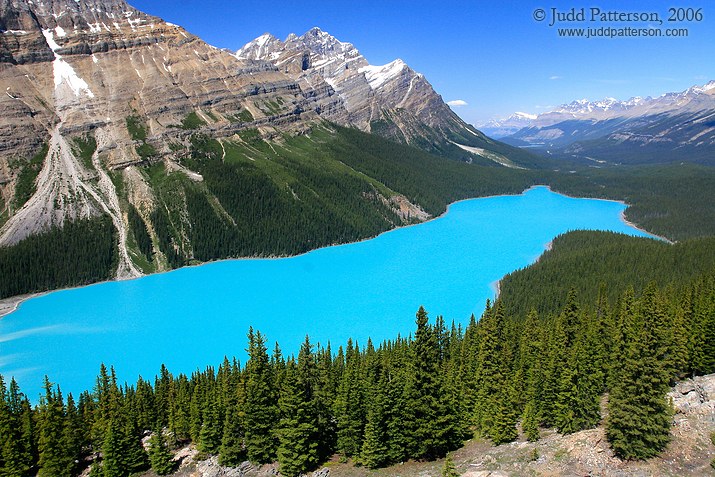 34. Peyto Lake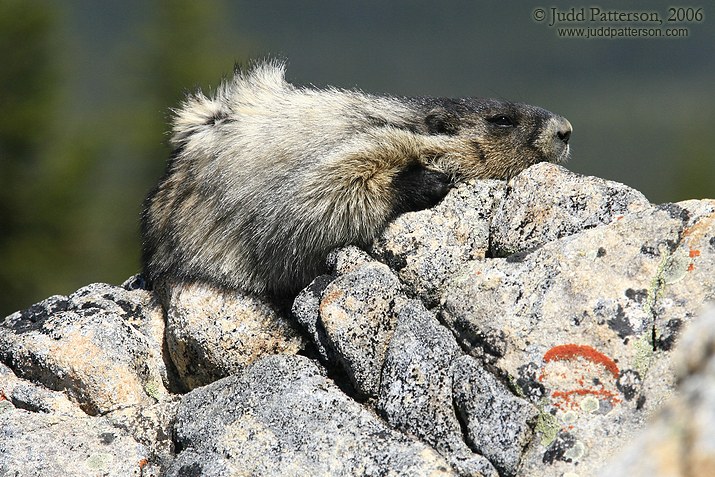 35. One of the luckiest Hoary Marmots I know. He was sitting on a rock staring out over the magnificent view of Peyto Lake (seen above). Can you imagine waking up to such a view everyday?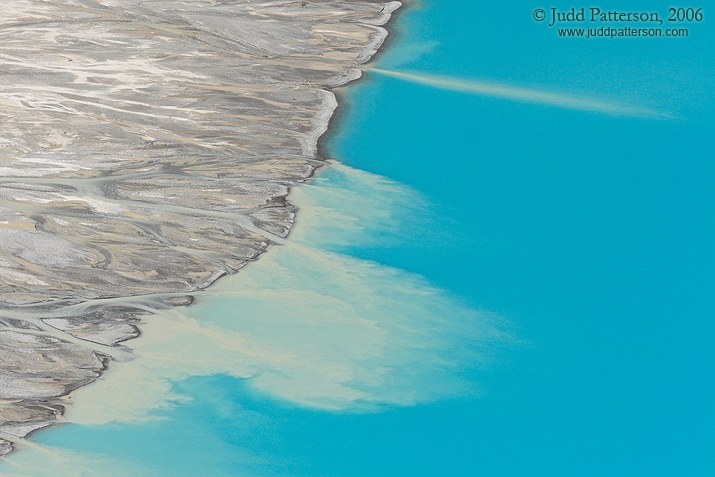 36. Sediments and more glacial flour pouring into Peyto Lake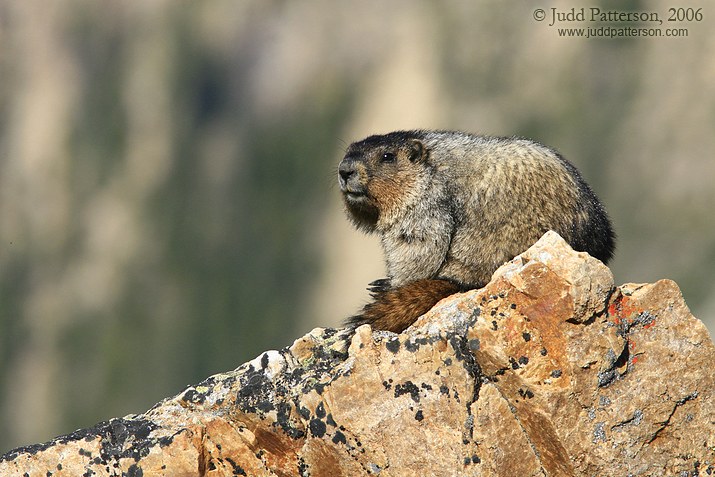 37. Hoary Marmot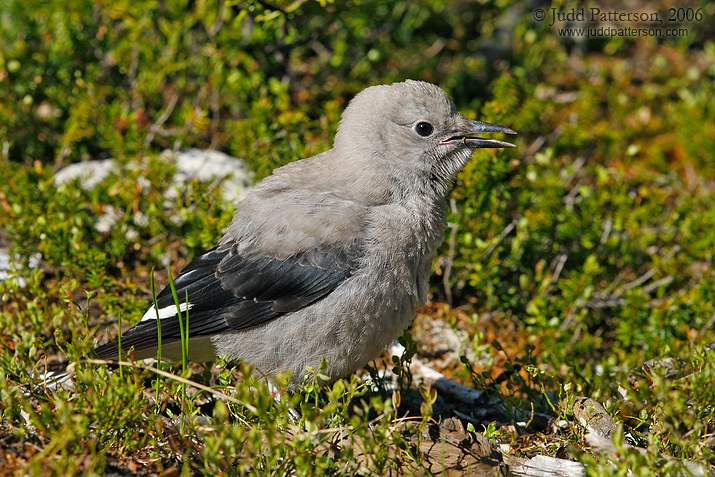 38. juvenile Clark's Nutcracker