The photographs on this website are available as high-quality prints, with optional matting and framing. Each image that you order will be printed by a professional lab using either Kodak Professional Endura or Fuji Crystal Archive Lustre photo paper. These quality papers have excellent light stability, with an estimated lifespan of over 100 years before noticeable fading in typical display. I hand-sign each purchased print.
Prices
Shipping charges are extra. Contact me if you are interested in a different size, as I can probably create it for you.
| | | |
| --- | --- | --- |
| Size | Print Only | Print and Double Mat |
| 5x7* | $20.00 | $35.00 (8x10 mat) |
| 8x12 | $30.00 | $50.00 (12x16 mat) |
| 10x15 | $55.00 | $80.00 (16x20 mat) |
| 12x18 | $75.00 | $110.00 (18x24 mat) |
| 20x30 | $150.00 | $200.00 (26x36 mat) |
| | | |
| 5x10 | $35.00 | $60.00 (9x14 mat) |
| 10x20 | $75.00 | $110.00 (14x24 mat) |
| | | |
| 5x15 | $40.00 | $65.00 (10x20 mat) |
| 10x30 | $110.00 | $150.00 (14x34 mat) |
| | | |
| 5x5 | $15.00 | $30.00 (8x8 matte) |
| 10x10 | $30.00 | $50.00 (14x14 mat) |
* Requires cropping. Some "standard" photograph sizes are not of the same ratio as my camera, so cropping is required. If I feel that the image changes significantly from the version on my website, I will contact you and ask for confirmation before proceeding.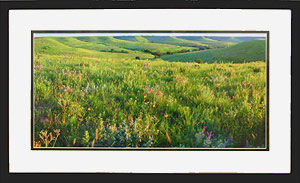 Mats
Photographs can be finished with a double mat. The top mat will be off-white and the 1/4" inner mat will be black unless alternative instructions are submitted with the order. Extra charges will apply if it becomes necessary to order custom matboard colors.
Frames
I can assist with any standard or custom frame needs that you have for my photographs. Prices depend upon material and style preferred. My online ordering system is not able to quote frame prices, so please use the comments box when you order to mention that you would like to have your order framed. It is helpful if you can describe the type of frame that you would like to order (metal or wood, preferred color, approximate width). I will contact you with more pricing information so that we can complete your order.
Ordering
The ordering process can be completed through my online galleries or by sending me an email.
To use the ordering system, find the photograph in the gallery and select the size that you prefer from the drop-down box at the bottom of each page. After clicking "Add to Cart" you should find the photograph in your shopping cart. The remainder of the ordering process should be straightforward. Once submitted, I will confirm your order via email and will work to resolve any remaining order or payment details.
If the ordering system does not work for you, please feel free to email me your order. Please include a link to the photograph(s) you would like to order or their unique photograph ID numbers. These ID numbers are presented immediately below the enlarged view of each photograph in the galleries.
In order to ensure optimal print quality and appearance, not all images are available in all print sizes. Consult the online ordering system to see the available sizes for each particular photograph. Please allow 2-5 weeks for delivery of print. The length of time required to fulfill your order will depend upon the print quantity and other options chosen. I will do my best to give you an accurate shipping date. If you need your print by a specific date, please let me know up front and I will do my best to comply. Special rush fees may be added if expedited shipping becomes necessary.
Payment
I can accept payment as cash, check, or online payment via PayPal. My policy is to hold your print until the full amount due has been paid. I will include a copy of your order invoice with the delivered/shipped items.
Shipping and Handling
Your order will be carefully packed and shipped. Prints larger than 5x7 are typically sent via FedEx in a flat box, while the smallest prints are typically attached to cardboard and shipped in a sturdy envelope via the U.S. Postal Service. Shipping charges range from $10-25 for most orders, but additional costs may be required on very large orders.